At January's CES in Las Vegas, where the world gets its first glimpse at all the cool tech coming down the pipeline, a flying taxi presented by Bell Aerospace and Uber was one of shiniest and brightest of the new toys.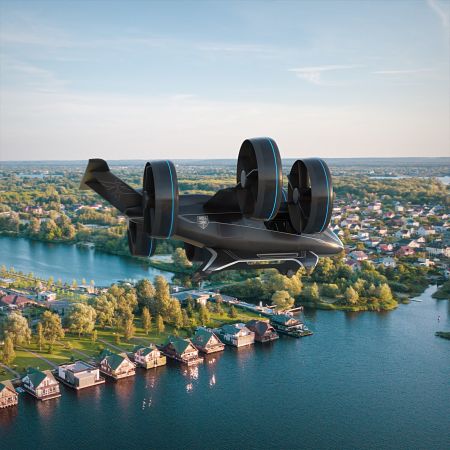 Though still a prototype, Uber and Bell hope to start flight testing the air taxi in 2023 and go to market shortly thereafter.
Bell's latest iteration of its Nexus VTOL aircraft, the Bell Nexus, is being developed as the preferred platform for Uber's Elevate air taxi program.
The Nexus may look like an oversized drone, but it is so much more. The 6500-pound aircraft sports six, eight-foot articulated ducted fans, which enable the platform to lift off the ground vertically like a traditional helicopter before rotating 90 degrees, allowing for faster air travel much like a plane. Landing is as easy as rotating the fans back into their original position and setting down gently.
Best of all, the Nexus fits on a standard 40-foot by 40-foot landing pad, which means that cities won't have to radically change existing infrastructure to accommodate them. And since the Nexus utilizes a hybrid electric power system, it should be able to fly more quietly and more efficiently than conventional 'copters. As Bell reps told Engadget, the Nexus will carry four passengers and a pilot up to a range of 150 miles and be able to travel that distance in just one hour.
This isn't the first VTOL aircraft that Bell Aerospace has produced. The company has been building helicopters since the Second World War and developed the V-22 Osprey, another tilt-rotor flyer, in conjunction with Boeing. Bell took many of the lessons learned when creating the Osprey and applied them to the Nexus, including a fly-by-wire system that will ensure the aircraft remains in a safe flight envelope. Bell is working with several other companies on the Nexus, including Safran, EPS, Thales, Moog and Garmin -- each of whom is building individual subsystems.
Uber said the Nexus represents "a major step in its Elevate initiative to create an on-demand Uber Air network" and shows it is "on track for delivering the world's first aerial rideshare network in the coming years."
The initial launch locations for the flying taxis include Dallas, Los Angeles, and a third location yet to be announced. A 2016 report from Uber found that in L.A. and Sydney, "residents spend seven working weeks each year commuting, two of which are wasted unproductively stuck in gridlock" and that "the average commute in Mumbai exceeds a staggering 90 minutes." It predicts that the new air taxi service will complete some journeys in a fraction of the time.
Uber is working with several property developers and local governments in the US to help ensure a shared network of high-volume sky ports around cities. Six final sky port designs were released at the Elevate summit last year.
With no existing technology for managing VTOL air networks, Uber has partnered with NASA to develop unmanned traffic management systems, and concepts to enable urban aircraft to fly safely and efficiently at low altitudes.
Uber Elevate's in-house team includes former NASA employees Mark Moore – who created the first VTOL at NASA – and Tom Prevot, who created NASA's first airspace system. With them is Celina Mikolajczak, formerly senior manager for battery development at Tesla, and Eric Allison, who developed self-piloted air taxi Cora.
Dan Elwell with the Federal Aviation Administration said safety will be a priority when it comes to regulating this new class of aircraft.
"We're the safety regulators: we're going to come at this from a safety perspective. The pace of technological advancement in this industry is faster than anything that we've ever had to deal with. When you put passengers on autonomous vehicles, as opposed to delivering a package, you introduce a much, much higher bar that you need to get over."
The company believes VTOLs will become "an affordable form of daily transportation for the masses, even less expensive than owning a car," with costs comparable to its car ride-sharing rates.
Several other eVTOLs are in in development around the world, including the autonomous Vahana from Airbus Helicopters and Chinese drone manufacturer Ehang's more advanced vehicle.
City Airbus, an electrically-powered air taxi, hopes to start field testing in late 2019 or early 2020.
China's Ehang, which debuted at the CES 2016, was recently authorized as China's first pilot company to develop passenger drone programs.