A spinoff from the Uber and Lyft rideshare phenomenon, e-scooter ride share companies Bird and Lime have emerged as viable transportation alternatives in America's top markets.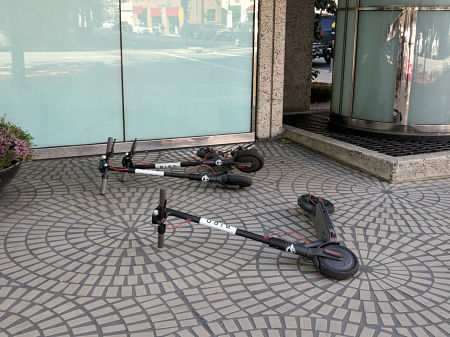 However, a high rate of crashes and injuries has drawn attention to the nascent industry. Consumer Reports (CR) recently conducted a spot survey of more than 110 hospitals and five agencies, such as police departments, in the 47 cities where at least Bird or Lime operates.
CR asked how many patients they've treated for scooter-related injuries, and if they have the capability to track the injuries.
Several doctors at trauma centers told CR they've been treating serious injuries related to e-scooters since the ride-share fleets started showing up on some city streets about a year and a half ago. For example, the emergency chief at Grady Memorial Hospital in Atlanta estimated the emergency department has treated 360 people with injuries.
Vanderbilt Hospital in Nashville has seen 250 people with injuries, according to the Medical Director of the Trauma ICU.
"We've had multiple concussions, nasal fractures, bilateral forearm fractures, and some people have required surgery," says Beth Rupp, medical director at the Indiana University Health Center, in Bloomington, Ind., where ride-share e-scooters were introduced in September.
Experts told CR they're concerned about the availability of helmets, especially when considering the nature of the ride-share business model, which allows anyone with a smartphone to rent a scooter from wherever the last rider leaves it, often from the side of the road.
"Who's carrying a helmet with them?" says Oscar Guillamondegui, M.D., medical director of Vanderbilt University Medical Center's trauma ICU. Guillamondegui estimates treating about 20 patients for scooter injuries. "I have only seen one person wearing a helmet. And that was my son, because I demanded it."
California resident William Kairala, who was injured in a serious scooter crash last year, says that in his experience the ride-share business model promotes what he described as a split-second decision for riders.
"You can find the scooters, and you can just grab it and go," he says. "In the spur of the moment."
Kairala is one of an estimated 1,500 people across the country injured in an e-scooter-related crash since late 2017, according to CR.
In some instances, companies have set up shop in cities without sufficiently meeting local requirements. And with few or no existing regulations in place for the battery-powered vehicles, communities have been left to figure out how to safely regulate them.
Traditional transportation-for-hire-services, such as taxis or limousines, typically are regulated by state and local governments. But the advent of app-based ride-share services (Uber and Lyft paved the way) has challenged that traditional regulatory structure.
Lime and Bird started deploying their fleets in various cities in late 2017. Some cities welcomed them as sorely needed transportation options, and the companies have found a receptive audience in pitching their business to combat climate change by reducing society's reliance on gas-powered cars. In some cases, cities like Portland, Ore., and Baltimore launched e-scooter pilot programs to encourage their use.
But in other cities, the ride-share fleets arrived abruptly, and the rollout of the services was fraught with challenges. In some cases, basic questions were left unanswered, such as where scooters should be allowed to operate, and whether users should be required to wear helmets. Residents and officials in some cities also complained about scooters left on sidewalks, or anywhere out in public, for the next rider to rent.
Lime and Bird, plus a handful of other smaller players, portray scooters as a "last-mile" solution that helps ease congestion on already-packed roads. They're affordable, too. Bird, for example, usually charges $1 per use, plus 15 cents per minute the ride lasts—and they're aimed at being accessible.
The terms of service contract and payment operate through an app on your smartphone. And because the vehicles are dockless, users can leave them anywhere they please for the next rider to use. At night, the companies deploy a fleet of workers to pick up the vehicles—which they track using GPS technology—and recharge them for the next day.
Both Bird and Lime say safety is paramount and that they're eager to work with cities to safely deploy scooters.
"Moving rapidly to reduce carbon emissions in transportation is one of the reasons we feel the need to move so fast," said a Lime spokesperson. Most of Lime's 26 million rides have happened safely, and the company uses numerous tools to educate riders about safety. To date, the company says it has distributed 75,000 free helmets to riders around the world.
"Rider safety remains Lime's top priority, which is why we provide riders with free helmets and recommend the use of helmets in our app and on pictures on our actual scooters," the company says. "In order to unlock a Lime scooter for the first time, all riders must first complete in-app tutorials that provide guidelines on helmet safety."
A Bird spokesperson said it's "committed to partnering with cities to ensure that the community, and its visitors, safely embrace our affordable, environmentally friendly transportation option. We strive to improve and enhance the well-being of our riders and communities through concrete action, including: requiring riders to upload a driver's license and confirm they are 18 or older, providing an in-app tutorial on how to ride a Bird and how to park it, and posting clear safety instructions on each Bird."