New York Gov. Andrew Cuomo is expected to announce his congestion management plan this month in the state's attempts to address congestion in New York City and produce a dedicated funding stream for MTA.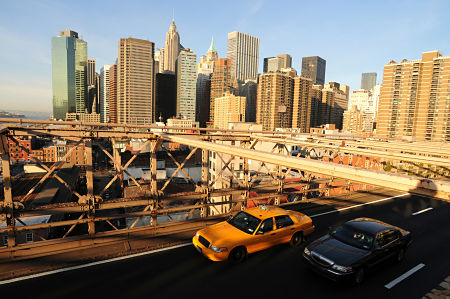 Gov. Cuomo last year appointed a "Fix NYC" advisory panel comprised of transportation experts, representatives from the MTA region, local leaders and stakeholders to study the issue. The panel has been working with HNTB Corporation, which is providing technical assistance and modeling, and evaluating various options and the implementation of proposed plans as well as identifying potential impacts to the city.
"New York City is home to some of the most gridlocked streets in the nation and with this new advisory panel, we take a major step forward in coming up with a real solution to tackle the issue of congestion while helping to fund mass transit moving forward," Governor Cuomo said when announcing the panel. "I look forward to hearing the panel's proposals to help bring relief to millions of New Yorkers and visitors who drive on our streets and rely on mass transit every day."
The panel's report found that cars from ride-sharing apps like Uber and Lyft are responsible, in large part, for unnecessary congestion on some of the city's busiest streets. While private vehicular traffic, delivery trucks, and yellow taxis are also to blame, the report found that ride-hailing cars spend an average of 11 minutes of unoccupied time during weekdays in Manhattan's business districts.
As a result, Governor Cuomo's task force is exploring the possibility of charging a new per-ride fee on all for-hire vehicles that make trips to Manhattan, according to a report in the New York Times. The fee would be passed on to customers and will work as part of Cuomo's congestion pricing plan that aims to both reduce traffic and raise money to fix the city's ailing subway system.
Yellow taxis are already subject to a 50-cent surcharge that goes to the MTA, while ride-sharing apps are not (though they do collect local and state sales taxes on every ride).
Uber is not on-board with enforcing a surcharge and a spokeswoman for the company said there is already an "unfair fee system" where Uber customers pay more in sales tax than taxi riders do. The company suggests a new "transit tax system" to fund subway repairs, that charges based on road congestion at given times, rather than on the type of travel vehicle.
The city estimates the subway system currently is in need of $800 million in repairs. The state has committed $400 million with the city expected to make a 50-50 match.
Former Mayor Michael Bloomberg proposed a congestion pricing plan that was shut down by the state legislature amid concerns it unfairly favored Manhattan residents.
Gov. Cuomo told the Times his plan will move in a different direction.
"Congestion pricing is an idea whose time has come," Cuomo said. He declined to provide specifics about how the plan would work and what it would charge, but said that he had been meeting with "interested parties" for months and that the plan would probably be substantially different from Mr. Bloomberg's proposal.
"The governor has been clear we need to reduce gridlock, cut emissions and fund mass transit,'' said Peter Ajemian, a spokesman for Cuomo, "which is why he empaneled Fix NYC to explore all options."
The Times piece also revealed that Cuomo had introduced a pilot program a few months ago to reduce the amount of trucks in Manhattan during rush hour: trucks that worked overnight got reduced tolls.
Move NY, a separate group, has submitted its own plan. Move NY's plan calls for $5.54 tolls each way on the four East River bridges into Manhattan, and the same toll for vehicles crossing north or south of 60th Street. Tolls on other bridges like the Henry Hudson and Throgs Neck would be reduced.
Former city traffic commissioner Sam Schwartz, a member of the state task force, said a new ride fee could push some passengers to seek cheaper alternatives, including subways and buses.
Alix Anfang, an Uber spokeswoman, said simply adding a fee would not address an already unfair fee system in which Uber riders pay more in sales tax than taxi riders pay with the 50-cent M.T.A. fee. She said the system is especially a burden on riders outside Manhattan, who have fewer subway and bus options.
Campbell Matthews, a Lyft spokeswoman, said the company has focused on increasing occupancy in cars on the road and reducing individual car ownership. "We are supportive of holistic efforts to address congestion in New York to ensure that all transit options available to New Yorkers are convenient and affordable," she said.