Cloud-based travel and entertainment expense management software provider Certify is reporting that Uber has become the preferred ground transportation choice for business travelers – and the numbers in California support that finding.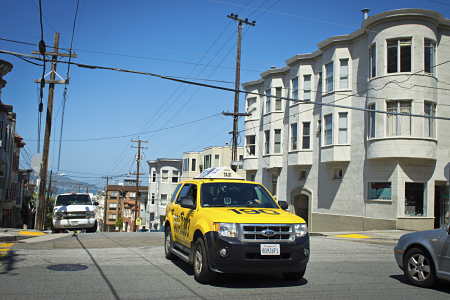 In its home town of San Francisco, 71 percent of rides expensed through Certify during the first quarter were for Uber; 29 percent used taxis. In Los Angeles, Uber represented 49 percent of business travel rides.
The rise of Uber and Lyft has dealt a swift, brutal blow to the California taxi industry.
"With nearly one million people activating business profiles, business travel has become one of Uber's fastest-growing segments. Providing the ability for our riders to automatically submit their receipts for expense reimbursement is a logistical step forward in making trips more seamless," said Max Crowley, lead of Uber for Business. "Thanks to our partnerships with top expense management companies, we can ensure that business travelers never have to pay out of pocket for business trips on Uber again."
"Uber has won the hearts and wallets of consumers and businesspeople alike, due to its real-time, customer-centric and competitively priced service," says Robert Neveu, CEO, Certify. "While we often see noteworthy market shifts — leading restaurant chains and hotels exchanging leadership positions, for example — it is unprecedented to see one vendor grow to take such a commanding market share within one year's time," he added.
Mike McCormick, executive director of the Global Business Travel Association, said many companies are worried about issues of safety and liability. Depending on the city, Uber drivers aren't necessarily regulated by government taxi licensing authorities. Big limousine or airport shuttle companies carry insurance; individuals moonlighting as drivers don't always, though both Uber and competitor Lyft insure their drivers during paid rides. McCormick says that becomes a liability and "duty of care" issue for companies sending workers on trips.
Uber has faced criticism that its employees inappropriately accessed customer data and that it does not properly screen drivers to ensure they have clean criminal records.
In Los Angeles, the brunt of the downturn has fallen on the drivers, many of whom sit behind the wheel full time, said taxi commission President Eric Spiegelman. By contrast, Uber and Lyft representatives say most of their drivers work part time to supplement income from other jobs.
Although numbers can vary dramatically depending on where and how often drivers work, the typical taxi driver has traditionally taken home about $40,000 a year after taxes and fees, said Jeannine Brands, a city engineering associate who specializes in taxi data.
Like their start-up competitors, taxi drivers in L.A. are independent contractors, but they pay to rent their vehicles and dispatch systems from the city's nine licensed companies. Those rental fees have remained steady, even when the number of trips they're making has dropped.
"The drivers are taking a hit, a big hit, and it's really painful," Spiegelman said.
Paul Ezadjian, a manager for LA Checker Cab, said many drivers have seen their trips fall by as much as 40 percent and the decline seems to be accelerating.
As a result, many drivers are leaving the cab companies to drive for Uber and Lyft. Still, Uber's per-mile rate is lower than that of taxis, which have their rates set by city officials. Uber also takes 20 percent of every fare.
The silver lining in the data is LAX, which has long been the stronghold of the Southern California taxi industry because trips that begin there are typically longer and more lucrative.
Since Uber and Lyft arrived, taxis have increased their trips at the airport by 41 percent. That increase has helped offset the revenue loss from the decline in other types of business.
What's unclear is whether taxis will be able to maintain their market share at LAX now that Uber and Lyft can pick up passengers there too.
After a protracted fight at City Hall, officials gave both companies the green light to send their drivers there several months ago. Preliminary data suggest Uber and Lyft drivers are picking up about 24,000 rides per week.
Still, Spiegelman said, it's possible that enough travelers need to get out of LAX that there's market enough for cabbies and ride-hail drivers.